This year is the first year where our family embraces all that is, 'summer break'. You see, I have a five year old who finishes Kindergarten this Friday. Then for eight weeks (it's a year-round school) it's all picnics and bike riding and running through sprinklers…right?
So why does part of me dread the idea of summer?
Maybe because for months I've been operating on a schedule of designated 'writing' time during PM school, while my two year old naps—and now it's all going to be thrown for a loop. Suddenly my writing is going to be invaded by ABCmouse.com and those short videos on Barbie.com. Although, some of them are pretty funny,
check it out
for yourself.
I should still have time to write, right? I mean, I deserve that 'me' time. The kids will be fine in the back yard.
Sure, if I believe the world revolves around me.
That's a tough one. I mean, I live in my head, so to me I really am the center of my universe, so I get caught up in what I deserve. I think I need time to write, even though the kids are at home.
I read a blog once, by Jerry B. Jenkins, talking about being a writer when you have young children. He pointed out that to them, quality time IS quantity. They don't know the difference. They just want to be around you.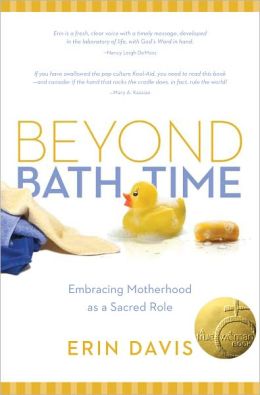 The book I'm reading right now is called
Beyond Bath Time
, by Erin Davis and she says this:
"Many of us have made the same mistake Eve made in the garden. We are willing to accept others' viewpoints—in her case, the serpent—without checking with God. We want motherhood on our terms and aren't interested in seeking God's plan if it doesn't match our own."
Am I saying you need to give up writing for the summer? No. Am I saying being a 'mommy' exclusively for two months will make you more holy? Definitely not.
What I am saying is this: Maybe, just maybe, God is calling you to Himself in this. He wants your heart, that's it. Whether that means sharing what God has done for you with your kids this summer, then great, or if it means sharing what God has done for you in your writing this summer, fantastic. But live devoted to him. Just for these few weeks, seek His heart and see what happens.
So often we try and brainstorm our way out of it. Like, if I get up at 5am all summer (like that's realistic) then how much can I get done before the kids wake up? Or, let's plan activities so they can be busy and I can have time to write.
How about, just this once, we pray our way out of it.
What do you think? Shoot me a comment below: how do you feel about summer? Yippee hooray, or big sigh?
Lisa Phillips is a wife, mom of two, writer and worship leader. Her first book The Ultimate Betrayal will be released by Harlequin's Love Inspired Suspense summer 2014. She lives on twitter @lisaphillipsbks and has set up shop at www.lisaphillipsbks.com