Why Facebook Subscribe Button Makes My Facebook Page Obsolete
By
Tony Bradley
,
PCWorld
Perhaps you've heard that Facebook has been tweaking the social network a bit? In the past few weeks Facebook has implemented a wide variety of changes--many of which mimic popular features from the rival Google+, and at least one of which leaves me with little reason to continue maintaining my Facebook Page.
Facebook
finally added Subscriptions
for personal profiles.
Facebook Subscriptions
What is a Facebook Subscription you may ask? By opening up Subscriptions on my personal Facebook profile, I enable anyone who chooses to subscribe to my profile to see any posts I share with "Public".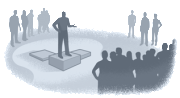 Subscribers let me use my personal Facebook profile with the public as well.When I first started using Facebook, I wanted to be able to share information and post links to my articles, but only those in my social network would be able to see those links and updates.
To read the rest, please link to...
.Why Facebook Subscribe Button Makes My Facebook Page Obsolete
http://www.pcworld.com/businesscenter/article/240193/why_facebook_subscribe_button_makes_my_facebook_page_obsolete.html